Congratulations Rob Tétrault! – Portfolio / Discretionary Manager of the Year Award

Toronto, Ontario – June 5, 2015 – Rob Tétrault of the Rob Tétrault Wealth Management Group, National Bank Financial, has won The BlackRock Award For Portfolio / Discretionary Manager Of The Year at the inaugural Wealth Professional Awards Friday in Toronto. Over 400 industry professionals gathered for the first-annual WP Awards gala at Toronto's Liberty Grand.
"I endeavor to give my clients a world class wealth management experience" says Rob Tétrault, Investment Advisor and Portfolio Manager. "My unique background as a Lawyer, Finance MBA and Portfolio Manager allows my team and I to provide our clients with the breadth and scope of unmatched advice."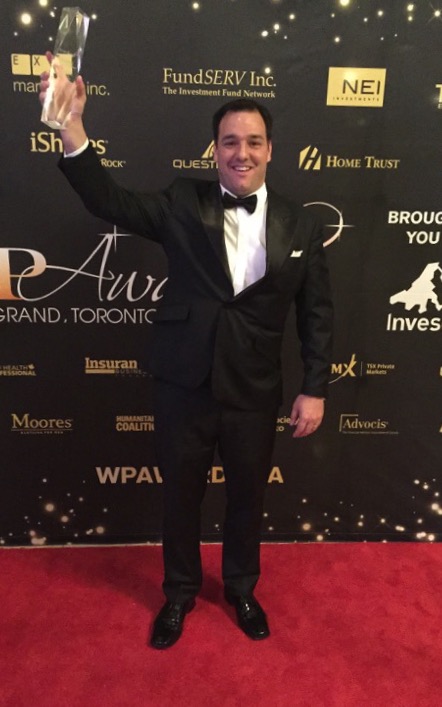 National Bank Financial Wealth Management ("NBF") is focused on its collective goal of being Canada's leading wealth management business and being the premier environment for Investment Advisors and their teams to achieve their individual visions and to deliver on client promises.
Rob Tétrault is an award winning Portfolio Manager and head of the Rob Tétrault Wealth Management Group at National Bank Financial. Rob's portfolio and wealth management expertise is enhanced by his transparency, honesty and dedication to placing his clients' interests first.
Rob is a devoted member of the community, serving on multiple boards, including a role as President of the St Boniface Francophone Chamber of Commerce, Board member of Actionmarguerite, the Winnipeg Chamber of Commerce and Le Classique. He is also Past President of the Association des juristes d'expression francaise du MB, Past President of Francophone Sport Manitoba, the Working Group on the Enhancement of French Legal Services and the Official Languages Offices National Advisory Committee. Rob is also the co-founder and trustee of the Canadian CMV foundation, an organization he created which has the mandate of raising awareness and money to eradicate congenital CMV.
Prior  to  pursuing   his   passion  in   wealth   management,   Rob graduated from the University of Toronto Law School and initially worked as a litigation lawyer at Aikins MacAulay Thorvaldson in Winnipeg. Rob subsequently completed a Finance MBA and was a member of the Dean's list at the Asper School of Business at the University of Manitoba.

National Bank Financial is an indirect wholly-owned subsidiary of National Bank of Canada. The National Bank of Canada is a public company listed on the Toronto Stock Exchange (NA: TSX). The particulars contained herein were obtained from sources we believe to be reliable, but are not guaranteed by us and may be incomplete. The opinions expressed are based upon our analysis and interpretation of these particulars and are not to be construed as a solicitation or offer to buy or sell the securities mentioned herein. The opinions expressed herein do not necessarily reflect those of National Bank Financial. The securities or sectors mentioned herein are not suitable for all types of investors. Please consult your investment advisor to verify whether the securities or sectors suit your investor's profile as well as to obtain complete information, including the main risk factors, regarding those securities or sectors.