Six months ago (at the time of writing) I sent an email and post on social media entitled "Lessons from running a marathon". I told the story of my recent marathons and the arrival fallacy. I commented on my joy in sharing a common goal with my brother.
I had let you know that I was jogging more than ever, making better health choices, and really focusing on the things I could control. I had also lost some weight and was aiming to complete my first-ever Ironman Triathlon.
In June, I travelled to Des Moines, Iowa, and brought my Ironman crew for support (Patrick, Diego and Sylvain). I'm not sure if you've ever been to Des Moines in June, but they have a different type of heat, very humid heat and one that I have rarely ever felt.
This was my first Ironman, and I had signed up for the daunting task of swimming 3.8 km, followed by 180km on the bike, and I would have to finish the day with a 42.2 km full-length marathon. I had trained a considerable amount for this race and hired a coach. I knew I didn't know anything about training for these events.
I knew I needed an expert who would tell me exactly how to prepare for this race. I put my complete trust in this person and asked him to build a plan and guide me through the highs and lows, the successes and failures of preparation for the Ironman.
In the weeks leading up to the event, my coach had me doing 20-22 hours of weekly training. That included 6-8 hours of training on Saturday, one long 90 min swim every Tuesday, and multiple hours in my basement on the bike or treadmill every morning before anyone else was up in my house.
The fact that I survived the rigorous training for this task was a success in itself. Had you told me one year ago that I would be able to train 20+ hours a week, I would have told you that you were crazy.

The night before the big race, we drove around Gray's Lake, where I would make my first-ever open swim. I could visualize the imposing distance I would have to swim for the first time, as it was right in front of my eyes. The buoys were set up for the race, which was incredibly daunting. You see, up until that point, I had never swam anywhere other than a pool. This was going to be different. That brought up much anxiety in me. As the boys joked about how long the swim looked, I wondered about my decision. I started getting anxious.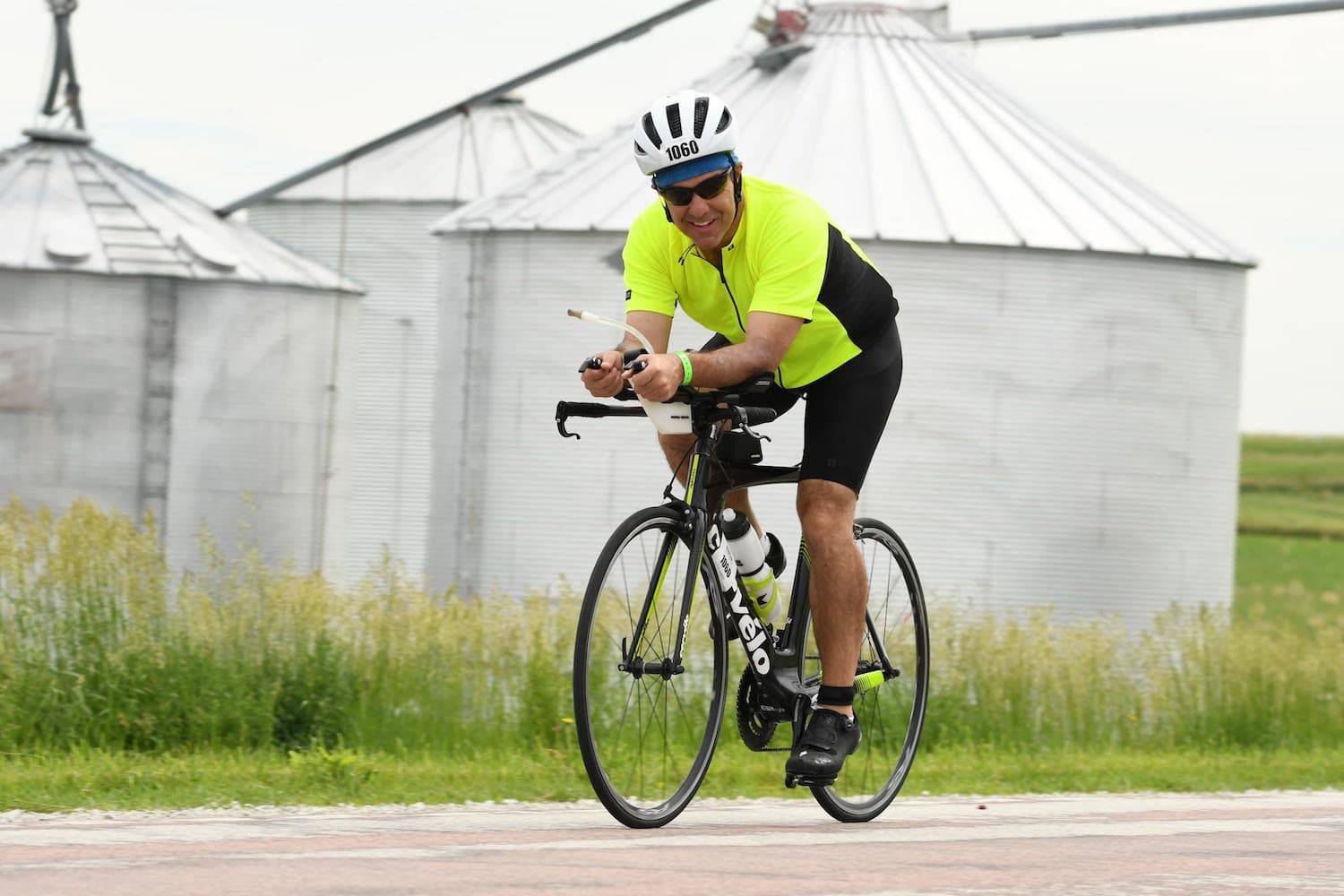 At 5 a.m. on race morning, race officials were walking around and telling all participants that they needed to be cautious, as the humidity was extremely high that day. "No one is going to make a personal best today, folks, so let's not get hurt out there!".
There was some chatter among the participants about cancelling the race. While they discussed it at length, the race would go on as planned even though the thermometer would likely hit somewhere around 32-33 degrees with humidity in the 90% range. The cautious tone of the race director scared me. He kept referring to the fact that "you can't hide from the heat today, so make sure to hydrate more than you ever planned."
Speaking of plans, one thing that I had meticulously drawn out was a race day plan. I knew that I was a well below-average Ironman athlete. I knew I would have to get by on what I could control: pre-race planning and race day effort. My coach and I had drawn out both nutrition and a hydration plan for race day.
My plan included about 300 calories per hour and about 40-50 grams of carbs every hour. In addition, I was to drink about 1 litre of water per hour. My only real goal was to complete the race in the allotted time of 17 hours. That would mean having to cross the finish line before 11 pm.
That morning when I zipped up my wetsuit for the first time and waited in a long line of participants waiting to jump into the cold water, anxiety started hitting me. The first few strokes in the water scared the living crap out of me. I could feel legs and arms hitting me, and I worried for the first time, "Is this how I go?".
With every stroke, I contemplated quitting. I could see the vastness of the distance I had to swim and felt compression in my chest from the wetsuit. I had difficulty breathing and felt like completing the swim was an impossibility.
Luckily I had prepared for this, and in my preparation, I had reminded myself that if things went wrong at any point, I would follow the one advice my father taught me about long-distance running: "Just keep moving."
And that's what I did. I kept moving, one stroke at a time, in the open water of Gray's Lake. As time passed, I started feeling strong. The anxiety disappeared, and I settled in for what would be a very long race day. I finished the race portion in a personal best time of 1:21.
The IronMan triathlon is a daunting task, yet many people complete it every year. It's a friendly reminder that anything is achievable with proper preparation.
After shedding 60 pounds and forging a more mindful mindset, I'm now aiming to traverse Manitoba in 12 days.
Just like training for a triathlon, preparing for a race or financial success takes time, dedication and consistent effort. Developing a plan and following through with it can be difficult, but the end result is always worth the effort.
By taking the time to map out your strategy and being mindful of your goals, you can set yourself up for success both in the short-term and the long-run during any stock market conditions.
If you want to retire comfortably or achieve any major financial goal, you need to start planning now. Meeting with a Financial Planner and Portfolio Manager is a great first step to get started on developing your personalized plan. Do you have a plan in place for your retirement and investment portfolio?
If not, we can help. Schedule a free consultation today and let us help you map out the steps needed to reach your finish line.