Rob and the Tetrault Wealth Advisory Group were proud to host this year's annual United Way National Bank Financial ping pong tournament on December 1st 2017. With our biggest turnout yet, we managed to raise over $500 for the United Way charity foundation. The second annual ping-pong tournament was a great success. Rob is seen handing out the trophy to the winners of their respective division. Our very own Karen Kazina from the Tetrault Wealth Advisory Group took home the Women's Division Championship and Anuj Maini was this year's Men's Division Champion. Congratulations to both of them and thanks to everyone that participated.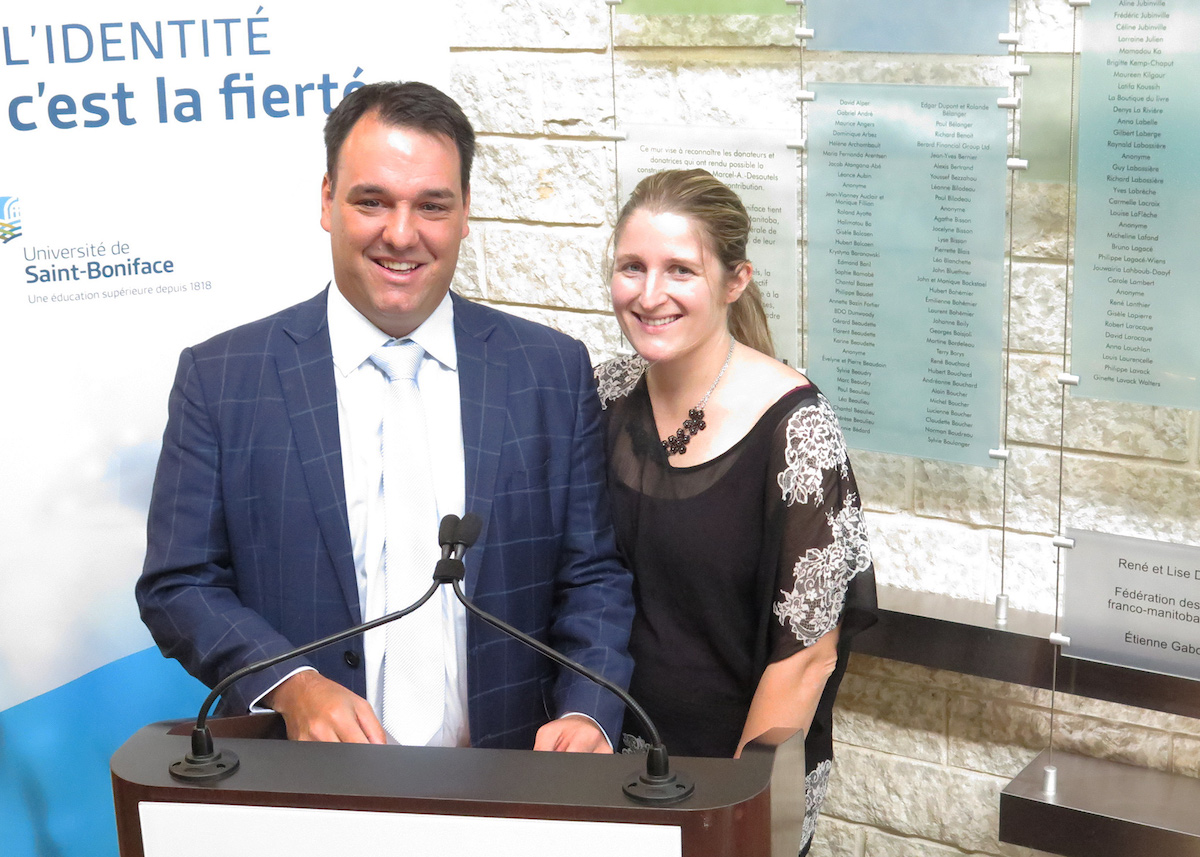 Rob was honoured to be a keynote speaker at l'Université de Saint-Boniface. He spoke in front of High School Students who are about to embark on their journey of post-secondary studies. He shared his post-secondary schooling background and his experiences from his days in University and in managing one of Canada's top investment and wealth management firms.
Rob is seen with branch manager Shali Zhang from the National Bank Financial Provencher Bank branch who just renovated their office environment and hosted their Grand Re-opening on December 5, from 5pm-7pm, where the ribbon cutting ceremony took place. NBF's commercial wealth management team along with financial advisors were in attendance to witness the new look at the Provencher NBF Branch.
On Saturday November 25th 2017, the Tetrault Wealth Advisory Group along with CrossFit Winnipeg hosted their very first of what we hope will be many more events together. It was the first time the brother and sister duo (Rob & Tania) hosted a forum style Q&A with various health experts of the community and we are proud to report a great turnout, with over 50 attendees.
We were particularly excited to be able to team up with some other local businesses to come with a pretty diverse panel of experts, including the following.
Liz Jones / Cranio Sacral Therapist & Owner of Jellyfish Float Spa – Stress & Pain Management Specialist
Dr. Kailey Murphy / Health & Wellness Coach – Goal Setting & Habit Change Specialist
Dr. Christopher Notley / Chiropractor and Athletic Therapist – Specializing in spine and sports injury care
Gary McLeod / Registered Massage Therapist & Nutrition Coach – Movement & Mobility Specialist
Chris Gair / CrossFit Level 1 Trainer – Weight Loss Specialist
We'd like to thank everyone who attended and we'd like to thank our panel of experts for donating their time as well as some swag for our attendees and draw prizes.
From left to right: Rob Tetrault, Chris Gair, Liz Jones, Gary McLeod, Tania Vrga, Kailey Murphy, Christopher Notley
Tetrault Wealth Advisory Group proudly sponsors the 12th Banquet Gala of the Flavie-Laurent Centre. In partnership with its milieu, the Flavie-Laurent Centre brings assistance and comfort to the impoverished and the vulnerable by distributing at no cost clothing, furniture and household items.
Rob was interviewed by CTV on Wednesday November 1st 2017. He spoke about his take on the marijuana sector and the future outlook of this market in Canada.
Transcript
Rob: It's a new industry, so people think, "Oh, imagine if I were to have got in on the tech industry at the start.
National Bank Financial Portfolio Manager, Rob Tetrault says, Investors are keen to get in on cannabis. He says, with several new companies trading publicly, people looking to invest should proceed with caution.
Rob: These companies, you've got to look at how much capacity they have. Are they actually licensed already? Do they have distribution? Are they going to be able to produce? Are they going to be able to expand? Well, at the end of the day, Canadians can only smoke so much marijuana.