Transcript
Rob: New Flyer is another Manitoba companies.
Andrew: The bus maker.
Rob: The bus maker, and they've acquired Motor Coach Industries, tons and tons of synergies there. In my mind, the market is underestimating what those synergies are going to be, and Soubry is a great CEO and they're doing it the right way for sure.
Rob and the Tetrault Wealth Advisory Group were proud to host this year's annual United Way National Bank Financial ping pong tournament on December 1st 2017. With our biggest turnout yet, we managed to raise over $500 for the United Way charity foundation. The second annual ping-pong tournament was a great success. Rob is seen handing out the trophy to the winners of their respective division. Our very own Karen Kazina from the Tetrault Wealth Advisory Group took home the Women's Division Championship and Anuj Maini was this year's Men's Division Champion. Congratulations to both of them and thanks to everyone that participated.
Transcript
Rob: I've stayed away from Valeant for a while. A lot of volatility lately, a lot of ups a lot of downs and this whole Walgreens Deal, honestly, the market doesn't like the fact that Mr Pearson's out.
Speaker 2: How risky is this company financially?
Rob: It's too risky for me. There are too any unknowns and I want answers before myself and my clients are going to get into the stock.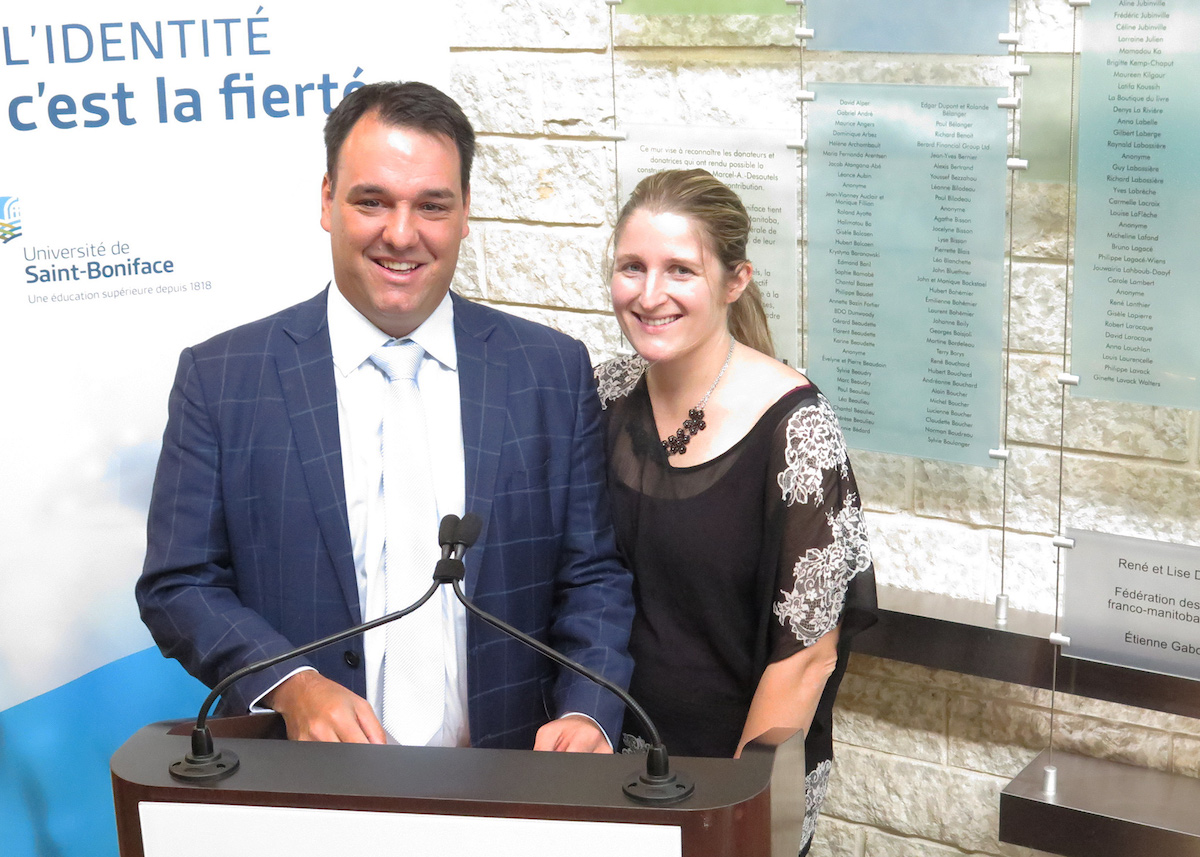 Rob was honoured to be a keynote speaker at l'Université de Saint-Boniface. He spoke in front of High School Students who are about to embark on their journey of post-secondary studies. He shared his post-secondary schooling background and his experiences from his days in University and in managing one of Canada's top investment and wealth management firms.
Rob is seen with branch manager Shali Zhang from the National Bank Financial Provencher Bank branch who just renovated their office environment and hosted their Grand Re-opening on December 5, from 5pm-7pm, where the ribbon cutting ceremony took place. NBF's commercial wealth management team along with financial advisors were in attendance to witness the new look at the Provencher NBF Branch.
Transcript
Speaker 1: What's interesting to you right now in this crazy market environment, Rob?
Rob: Well, I'm really interested in oil. I really like financials. Somewhere near here in my mind there will be a bottom in the next…whatever it is, three, six, nine months. I do know that long-term I'll be happy that I bought financials around this time.
On Saturday November 25th 2017, the Tetrault Wealth Advisory Group along with CrossFit Winnipeg hosted their very first of what we hope will be many more events together. It was the first time the brother and sister duo (Rob & Tania) hosted a forum style Q&A with various health experts of the community and we are proud to report a great turnout, with over 50 attendees.
We were particularly excited to be able to team up with some other local businesses to come with a pretty diverse panel of experts, including the following.
Liz Jones / Cranio Sacral Therapist & Owner of Jellyfish Float Spa – Stress & Pain Management Specialist
Dr. Kailey Murphy / Health & Wellness Coach – Goal Setting & Habit Change Specialist
Dr. Christopher Notley / Chiropractor and Athletic Therapist – Specializing in spine and sports injury care
Gary McLeod / Registered Massage Therapist & Nutrition Coach – Movement & Mobility Specialist
Chris Gair / CrossFit Level 1 Trainer – Weight Loss Specialist
We'd like to thank everyone who attended and we'd like to thank our panel of experts for donating their time as well as some swag for our attendees and draw prizes.
From left to right: Rob Tetrault, Chris Gair, Liz Jones, Gary McLeod, Tania Vrga, Kailey Murphy, Christopher Notley
Transcript
Rob: My favorite for sure at this point would be Boyd. I like what you're doing. I like it at this point. I think this is going to be an $80.00 stock in 2016.